---
Visit www.nova-tractor.com for Credit Card and other payment method.


MD155 $2500, MD175 $2600, MD195 $2700.  
We have MD155/175 in stock, we have sold out MD135/195 mower.
MD series(Its previous model name was "EFGC", we changed its model name as "MD" which means "Middle Duty") - for working widths from 135cm/53inch to 195cm/76inch.

Free shipping to any location within the lower 48 states (or continetal U.S.). Alaska, Hawaii & Canada Require a surcharge !
Free PTO shaft included.
Flail mower for small and medium tractors with 25hp to 60hp with CAT I. 3-point hitch. 
Application:
The Nova Tractor MD(middle duty) flail mower series is ideal for tractors with 20 to 65hp, up to 100cm/40inch grass height. Nova Tractor MD mower has a reinforced transmission making it the perfect choice for maintaining large fields, plantations, wine yards or horse paddocks. With available working widths of up to 195cm Nova Tractor performance MD mowers will help you to find a perfect match for your tractor and the job you need to do. Nova Tractor MD mower use 20 to 32 large, forged and galvanized high performance hammer knives (depending on working width) - each with a weight of 800gram/1.76lb - that ensure a perfect mowing result on grass, undergrowth and bushes of up to 25mm/1inch diameter.
Technology:
Comer Transmission. Nova Tractor MD flail mower use transmission from Comer Industries.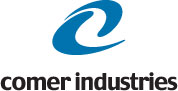 SKF ball bearing for rotor shaft. Nova Tractor MD mower is with rotor shaft with SKF ball bearings and CNC bearing seats.
Stainless steel grease nipples. Nova Tractor MD mower is stainless steel grease nipples.
Forged flail hammer. Nova Tractor MD is with forged and galvanized high performance hammer knives, each weight is 800gram/1.76lb.
Replaceable counter knife. The new replaceable counter knife, integrated in the mower housing, are helping to do an even more efficient job as before.
Heavy duty roller. The mowing height is adjusted by the heavy, ball-bearing mounted self cleaning rear roller which is 5.3"; diameter, to prevent the mower from cutting into the ground on bumpy surface.
Heavy duty front flaps. The mower´s front is equipped with heavy duty safety flaps to prevent debris and stones being thrown out of the machine.
Wooden packing box. The completely assembled machine is delivered in the massive Nova Tractor wooden boxes. Just the improved Cat-1 3-point hitch (Cat-2 bushings are included) and the front and rear safety bar have to be assembled, taking you less than 30min. We offer an assembly guide with photos to assist you.
Electronically balanced rotor. Like all other Nova Tractor mowers, the MD series has an electronically balanced rotor shaft which is driven by 3 or 4 belts depending on the working width. Despite the high flail hammer knife weight of 800gr each, this guarantees an almost 100% power transfer rate with virtually 0% belt slippage. The new Nova belt cover is unique in the MD mower class. The correct belt tension can be checked within seconds without having to remove the belt cover. This makes service and maintenance a lot easier than before.
We from Nova Tractor firmly believe that you will not find a better value for money mid size flail mower in the US market. Feel free to compare ours to the other products in the market and we are sure you will agree.
ATTENTION
Partially assembled machines do not contain any fuel, oil or other fluids or grease needed for operation ! BEFORE USING THE MACHINE please carefully read the English user manual.
Technical Data

MD-135


Dimensions (LxWxH)


64x37x33inch


72x37x33inch


80x37x33inch


88x37x33inch

total weight


634lbs


670lbs


712lbs


756lbs

cutting width


53inch


61inch


68inch


76inch

adjustable mowing height


0.75 - 2.95inch

3-point hitch


Cat I (Cat II bushings included)

PTO shaft, clockwise


540 RPM

PTO shaft length


39inch

working efficiency per hour(approx.)

1.3 – 2.6acre


1.5 – 3acre


1.7 – 3.4acre


2.1 – 3.85acre

drive system


3 belt system


4 belt system

tractor engine power; recommended

25-40hp / 18-30KW

30-40hp / 22-30KW

40-55hp / 30-41KW

45-60hp / 34-45KW
material strength flail shaft cover


4mm / 0.15inch

material strength side walls


6mm / 0.23inch

painting


powder coating

flail form


forged steel hammer (Y-knives available)

number of flails (separately exchangable)


18

24

28

32

weight per flail


800gr / 1.76lb

RPM of flail shaft


2200RPM

transport box (LxWxH)

64x33x32inch

72x33x32inch

80x33x32inch

88x33x32inch
Check mower's position on your tractor according to this size list.

Check mower's 3point hitch size according to these two photos.